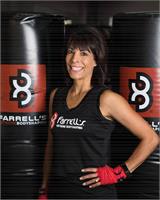 Lorrie Neppl
I joined Farrell's in June of 2011. I have always enjoyed an active lifestyle and was anxious to try something new. I was thrilled with my results after just 10 weeks and knew that it was something that I wanted to continue doing. Being a part of the Farrell's community for the past 6 years has pushed me out of my comfort zone, from coaching to instructing, running 1/2 marathons and mud runs. Most importantly my fit lifestyle has kept me healthy and strong which allows me to keep up with my four grandchildren.
Being an instructor is truly gratifying. I am inspired by every 10 week group that joins, seeing their enthusiasm and commitment to a healthy and fit lifestyle motivates me.
Outside of the gym I enjoy traveling and hiking with my husband and spending time with my family.